Key accused of `hoodwinking the public'

NZ Newswire
20/06/2016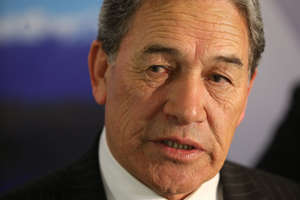 © Fiona Goodall/ Getty Images NZ First leader Winston Peters Prime Minister John Key is being accused of deceiving the public by extending New Zealand's troop deployment to Iraq.
When the troops were sent to Camp Taji near Baghdad in May last year to help train local forces, Mr Key said he didn't expect they would be there for longer than two years.
On Monday he announced the mission was being extended by 18 months through to November 2018.
"The prime minister has hoodwinked the public," said NZ First leader Winston Peters.
"It was never going to be a tour of duty for just two years - that was totally unrealistic given the circumstances of the war."
Labour leader Andrew Little, who was briefed ahead of Monday's announcement, says Mr Key has not been open with the public.
"He has not been straight with New Zealanders, nor has he made the case for mission creep," he said.
"He owes it to New Zealanders to explain why we're committing our forces to an ongoing volatile theatre of war."
Green Party co-leader James Shaw says Mr Key has broken a promise.
"John Key went to Camp Taji and made a promise that New Zealand troops would not serve longer than two years," he said.
"The deployment does not make us safer, it puts New Zealand troops at risk and makes New Zealanders unnecessary targets of ISIL."
Mr Key accepts he has changed his position.
"I made it pretty clear that I thought they would be there for two years," he said.
"They're staying a little bit longer ... I have changed my view on the advice I've had, I support what they're doing and I support the fact that they'll be there a bit longer."
Mr Key wouldn't make a firm commitment that the extended deployment would be the last.
"I don't want them there for ever," he said.
Mr Key says the troops are carrying out an important task training Iraqi forces to fight the Islamic State, and more needs to be done.
"The threat to New Zealand and New Zealand's interests remains a real one," he said.
"ISIL's brutality has been on display to the world all too often... its sick propaganda has radicalised lone-wolf terrorists, New Zealand is part of an international coalition of 66 countries united against the group."
Mr Key wouldn't confirm the extension was at the request of the United States.
He said the decision had to be made now because the Australians, who are also training Iraqi forces, wanted to know how long the deployment would last.
The number of troops in Iraq will stay at around 140.
The extended deployment is estimated to cost an extra $10 million, bringing the total cost to around $50m.