Key cautious on Green Parrot case

NZ Newswire
13/09/2016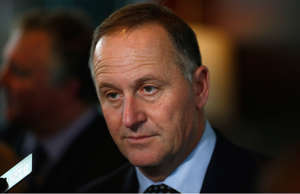 Prime Minister John Key won't comment on whether there's any validity in a claim that four years ago he said he would pay a bill for two men in Wellington's Green Parrot Cafe.
The bizarre chain of events led to the men being arrested and locked in a police cell overnight.
Fairfax reports that one of them, Kent Boyd, is now seeking $10,000 compensation from the police and he wants Mr Key to be a witness.
"This guy is taking an action against the police, I'm nothing but a witness if that's what they believe," Mr Key told reporters on Tuesday.
"I'm very limited in what I can say because it could go to court.
"The only thing I'll say is that like everything in life, there's always a different version of events."
The incident was reported at the time, and according to Mr Boyd he and his friend approached Mr Key in the cafe and struck up a conversation with him.
They told Mr Key they were unemployed and asked him to put the $82 bill for their mixed grills and beers on his tab.
Mr Boyd claims Mr Key agreed, but cafe staff didn't believe them.
Mr Key's protection officers pulled them aside, and police subsequently arrested them and locked them up.
Mr Boyd is reported to have filed a claim against the police.
He is claiming he was arrested before he was able to ask Mr Key about the alleged offer to pay and had enough money to pay the bill himself but wasn't given the chance.
The Independent Police Conduct Authority reported on the incident and found Mr Key's protection staff didn't use excessive force.
The report shows they were asked for assistance, and assessed Mr Boyd and his friend as drunk and disorderly.
Mr Key's office says the prime minister didn't offer to pay for the meal.