Key confirms Bainimarama's visit

NZ Newswire
17/10/2016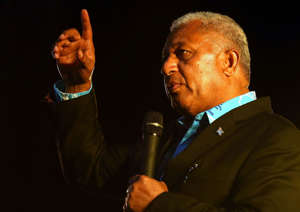 Fiji's Prime Minister Frank Bainimarama will make his first official visit to New Zealand later this week, Prime Minister John Key has confirmed.
He arrives on Wednesday but the formal welcoming ceremony won't take place until Saturday, at Government House in Auckland.
That will be followed by talks between Mr Key and Mr Bainimarama, and they'll go on to watch the Bledisloe Cup match together at Eden Park the same day. Mr Bainimarama leaves on Sunday.
Mr Key paid his first official visit to Fiji last year, which was marked by an undiplomatic speech by Mr Bainimarama at an official function.
Mr Bainimarama berated New Zealand and other countries for criticising Fiji, but despite that Mr Key invited him to New Zealand.
Diplomatic relations have thawed since Mr Bainimarama seized power in a coup in 2006, and Mr Key has previously said he believes the Fijian leader wants to put the relationship on a better footing.
However, he doesn't think New Zealand and Fiji are ever going to agree about the coup.
"This is a guy who undertook a military coup, he believes what he did was right and disagrees with New Zealand's and Australia's perspective on that," Mr Key told reporters after confirming Mr Bainimarama's visit.
"If he wants to come and relitigate that I can't stop him, but as far as I can see he is never going to change his view that he was justified in what he did, and we aren't going to change our view that we don't agree with people assuming authority through the barrel of a gun."