Key ducks Bombay trip

NZ Newswire
24/10/2016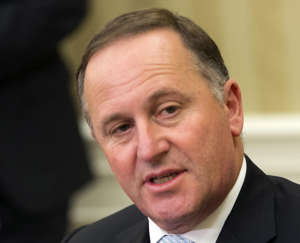 © Associated Press New Zealand Prime Minister John Key
© Getty
Prime Minister John Key
Prime Minister John Key's curtailed visit to India will now centre solely on the capital New Delhi and pushing for progress on a free-trade deal.
Mr Key and a business delegation spent Monday night in Queensland's Townsville after the group's RNZAF 757-200 transport aircraft developed mechanical problems and a replacement had to be flown across.
It meant the planned trip to the financial capital Mumbai, meant to take up much of Tuesday, was ditched, and rest of the four-day schedule will be picked up in New Delhi from Wednesday.
That has meant the canning of a planned speech to the Bombay stock exchange, Asia's oldest, and an "innovation showcase" aimed at highlighting New Zealand technology companies and their Indian partners.
In New Delhi, Mr Key will meet his counterpart Narendra Modi, where he hopes to find favour with his business-friendly agenda.
The primary purpose of the Indian visit was to discuss move forward talks, which started with a hiss and a roar six years but have since slowed, Mr Key said.
India has protective tariffs for its agriculture but Mr Key wanted to see movement in meat and dairy product lines.
"I'm not coming to India with the expectation we'll get that resolved over the next few days, but I think over time we can push things along."
Mr Key said there would also be discussions about Indian students studying in New Zealand, where about 30,000 students a year were being taught but the number of fraudulent visa cases was skyrocketing.
Students were turning up without the correct paperwork or enough support and could be vulnerable, he said.