Key grilled over foreign trust rules

NZ Newswire
3/05/2016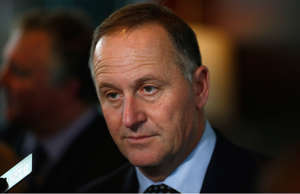 © Getty Prime Minister John Key Prime Minister John Key has denied in parliament that he had anything to do with IRD's decision not to review foreign trust rules.
Mr Key faced a grilling at question time on Tuesday over an issue that's been festering since early last week when it was revealed his personal lawyer, Ken Whitney, dropped his name when he lobbied against tightening the rules.
Mr Whitney runs a specialist trust company, Antipodes, and after talking to Mr Key in 2014 about the IRD's plans he met the then revenue minister, Todd McClay.
Those plans were subsequently dropped, and opposition MPs are trying to link Mr Key to the decision.
But Mr Key told parliament all that happened was Mr Whitney asked him about a report in the New Zealand Herald concerning the IRD and foreign trusts.
"I told him 'I have no idea what you're talking about'," Mr Key said.
"I told him to speak to the minister, it happens every day."
Mr Key said he didn't tell Mr McClay to instruct the IRD not to review the trust rules.
Labour leader Andrew also questioned Mr Key, and Speaker David Carter had to call for order when Mr Key accused Mr Little of "making stuff up".
Mr Key denied he had changed his story.
"I have been completely straight," he said.
Mr Little asked Mr Key about people close to him receiving "special treatment" and Mr Key denied that as well.
He said Mr Whitney and a group of trust lawyers met Mr McClay to discuss their concerns, which was standard procedure.
"They didn't get special treatment, they were entitled to raise their concerns," he said.
Mr Key has previously said IRD decided not to review the rules around trusts because it had a lot of work to do at the time.
It was also considered that the review wouldn't benefit New Zealand.