Key lobbies for Clark as UN chief

NZ Newswire
12/07/2016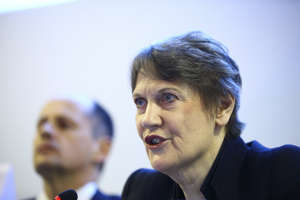 John Key is canvassing support for Helen Clark to be the next United Nations secretary-general as he meets national leaders on his trip to Europe and Indonesia but says she faces a "really tough fight" to get the job.
"All the feedback we continue to get is that she is extremely well thought of," he told reporters in London on Tuesday.
Mr Key said outgoing British Prime Minister David Cameron told him on Monday he thought Ms Clark, who is now the head of the UN Development Programme, would potentially be very good in the top UN job.
The first straw poll on the post will be held later this month to narrow down the field.
Mr Key said he would be canvassing support for the "outstanding" candidate Ms Clark when he meets national leaders in Italy, France and Indonesia later this week.
"She brings to the table a huge number of attributes that would be wanted I think by members of the United Nations, not the least of them being an extremely high-performing track record both at the UN and as prime minister of New Zealand.
"There isn't anything she doesn't know about foreign policy and if there was she would learn it pretty quickly."
Mr Key said Ms Clark had proved at the UN she was adept at managing very difficult issues and a "neutral" secretary-general was needed at a time when the UN Security Council was facing difficult decisions.
"I think she's still in for a really tough fight. If it was a straight horse race on who has got the most ability I think Helen Clark would win."
But Mr Key said that's not the way the UN works, with the permanent five members of the UN Security Council able to exercise a veto.
"There's always some discussion that it's Eastern Europe's turn so that would work against her.
"She's certainly in a position where she's well respected, her pedigree is there for everybody to see, she has had a very, very stellar career, so let's just hope she can get there."