Key looks to China, Russia at APEC

NZ Newswire
20/11/2016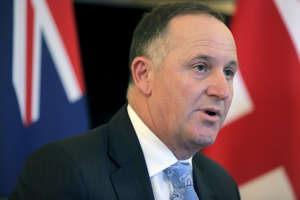 © Reuters/JOSHUA ROBERTS John Key Having argued China would fill the void if the United States withdrew from global trade, Prime Minister John Key has rounded off his stint at APEC by announcing a plan to upgrade a trade deal with the world's second-biggest economy.
And he's taken a small step towards a trade deal with Russia as well.
The future of trade in the Asia Pacific following the election of Donald Trump as US President has dominated the APEC summit in Lima this year, with few addresses given not touching on the TV reality star's anti-trade sentiment.
Taking a break from Sunday's APEC leaders' retreat - during which the leaders of the 21 member countries get away from the media gaze - Mr Key announced New Zealand would be negotiating an upgrade of its eight-year-old FTA with China.
He told reporters while he was still optimistic Mr Trump's campaign rhetoric wouldn't turn into policy, the new talks reflected a sentiment among leaders that business would go on without the US if necessary.
"While the US is an important voice, it's not the only voice," Mr Key said.
It echoed his earlier speech, in which he said: "In the end if the US is not there, that void has to be filled. And it'll be filled with China."
The Prime Minister also managed to catch up with Vladimir Putin during the retreat, telling the Russian President he was looking to progress a New Zealand-Russia FTA over time.
New Zealand and Russia got close to a deal in 2014, but suspended talks following events in the Crimea.
Mr Key said while he didn't want to jump the gun on the issue - with Russia still facing European sanctions - New Zealand wanted to be ready if the situation changed.
On a lighter note, Mr Key also donned a camel-coloured vicuna scarf for the APEC leaders' "family photo" - in which the host country provides a specially designed garb - sharing a joke with Canadian PM Justin Trudeau as they took their spots.
"I just said to him: 'Typical, you're trying to block me out'," Mr Key told reporters.
He departs for New Zealand on Sunday afternoon, after a whirlwind two-day trip truncated by last week's magnitude 7.8 earthquake.