Key 'losing touch' with Kiwis: Peters

NZ Newswire
5/12/2016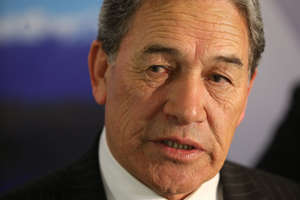 NZ First leader Winston Peters believes Prime Minister John Key's resignation has come as the three-term leader is beginning to lose touch with Kiwis.
While most party leaders have been diplomatic about Mr Key's surprise move, Mr Peters, who has been in parliament through eight different prime ministers since 1978, is more blunt.
When Mr Key's decision was announced on Monday Mr Peters was quick to fire off a statement saying there were "hidden economic reasons" behind it.
"John Key was beginning to look like he wasn't hearing people, that he was getting out of touch," he told Newshub on Tuesday morning.
"John Key's style was wearing a bit thin against their own private lives, their mortgages, lack of housing, homelessness all that sort of stuff."
He noted last time a prime minister went out on their own terms was National's Keith Holyoake in 1972.
"You've got to hand it to the guy, he was a teflon man. No matter what went wrong nothing seemed to stick with him, and that's a very lucky characteristic and a very likeable one if you're a National Party voter.
"He had some extraordinarily good luck, including for the most part an incompetent opposition."
Mr Peters picked Deputy Prime Minister Bill English to be his replacement simply because Mr Key had nominated him.
If National's caucus snubbed Mr Key's choice it would be "astonishing", Mr Peters said.