Key pushes trade, business ties in Jakarta

NZ Newswire
18/07/2016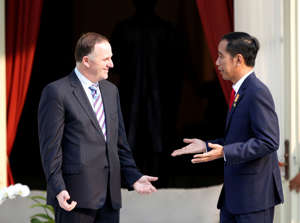 © REUTERS/Darren Whiteside Prime Minister John Key (L) and Indonesian President Joko Widodo chat at the presidential palace in Jakarta. Speeches, meetings, handshakes and smiles: it's all in a day's work for Prime Minister John Key in Indonesia as he pitches New Zealand as a good partner to trade and do business with.
Mr Key and Trade Minister Todd McClay are leading a 22-strong business delegation on a two-day visit to Indonesia aimed at boosting ties between the two countries.
Indonesia is New Zealand's 13th largest trading partner, with two-way trade worth about $1.6 billion a year.
But with a population of more than 250 million, a growing economy and an expanding middle class, there's room for New Zealand exporters to do more.
To try and help Kiwi businesses cash in on those opportunities, Mr Key's kept up a relentless schedule of business breakfasts, business forums, meetings, lunches and launches over the 24 hours or so he's been on the ground in Indonesia's capital Jakarta.
He's talked up the potential in the education sector - at the moment only about 800 Indonesian students come to study in New Zealand each year, but he says there is the capacity to educate many more.
While Indonesia - and Bali in particular - is a popular holiday destination for Kiwis, Mr Key is also trying to encourage more Indonesians to make the trip to New Zealand.
That means improving air links between the two countries, as well as better promotion of New Zealand as a tourist destination within Indonesia.
New Zealand has already proved itself as an expert partner when it comes to renewable energy, helping build Indonesia's first geothermal power plant back in the 1980s.
That partnership has endured and on Monday the two countries signed an agreement that will mean New Zealand will assist Indonesia in its ambition to have 25 per cent of its total energy supply come from renewable sources by 2025.
The trade push continues on Tuesday, with Mr Key attending an event at a Fonterra facility near Jakarta to highlight agricultural cooperation between the two countries.
He'll then fly to Surabaya in East Java where he'll have a number of official meetings and make several business-related visits.
Mr Key returns to New Zealand late on Wednesday.