Key tight-lipped on $60m rich list value

NZ Newswire
28/07/2016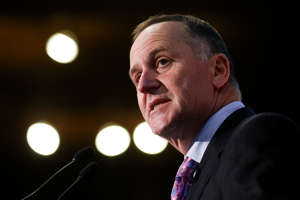 Prime Minister John Key has again been listed as one of New Zealand's 200 richest people, but he won't say if his reported $60 million net worth is correct.
Mr Key has appeared as No.175 on the NBR's annual Rich List, but he was tight lipped when asked if the figure was accurate on Thursday.
"I don't comment on my personal net worth," he told reporters.
Mr Key earlier this year declined to release his tax records, although in 2014 he was estimated to be worth about $50m and $55m last year.
He's listed as having interest in two trusts, five properties - including in London and Hawaii - two US companies and a superannuation scheme in the most recent register of pecuniary interests.
Asked if he thought New Zealand relied a lot on the wealthy for supporting causes such as the arts, Mr Key said he thought Kiwis of all incomes levels were generally generous with their money.
"I think that's one of the privileges when you are in a position where you have more than enough that you can advance some causes you believe in," he said.