Key to address party faithful

NZ Newswire
3/07/2016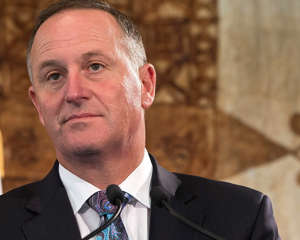 © AAP/DAVID ROWLAND Key to address party faithful Prime Minister John Key will address the National Party faithful in Christchurch with optimism, having already cautioned against complacency.
He takes the stage for the leader's address at the annual party conference on Sunday morning, halfway through a third term of government and tracking well in the polls.
In opening remarks to the 500 delegates on Saturday, Mr Key said the National government had to continue to "deliver for New Zealand" and it was too easy to focus on trying to get a fourth term at the 2017 election.
On Sunday, he will review the work the government has done during the past 12 months, discuss its plans for the next year and release a new policy.
In an editorial, the New Zealand Herald said National's continued ascendancy in the polls reflected an economy still performing more strongly than most but also with serious social imbalances steadily worsening.
Commentators are looking for new ideas on social housing and any hints of future tax cuts.
Protesters are expected at the conference on Sunday.