Key urges cool heads over South China Sea

NZ Newswire
12/07/2016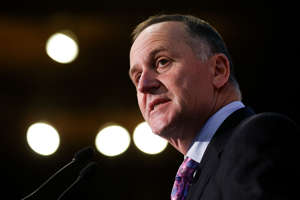 A ruling on control of disputed territories in the South China Sea is unlikely to spark a threat to global security and New Zealand hopes cool heads will prevail to resolve the issue peacefully, Prime Minister John Key says.
An arbitration court in The Hague is set to hand down its ruling in the dispute in which the Philippines is challenging China's right to exploit resources in the area.
China says the court does not have jurisdiction to decide the issue which draws in five countries with overlapping claims to some of the world's most promising oil and gas fields and vital fishing grounds.
Its increased military assertiveness in the area has spread concern among its smaller neighbours and is a point of confrontation with the US.
Mr Key told reporters in London on Tuesday that for a long time New Zealand had said it didn't take a position on the issue and wanted the partners to the dispute to resolve it peacefully.
"It's a very important stretch of water from New Zealand's perspective because the bulk of our exports go by sea and go past the South China Sea so we want to make sure there's peace and stability in the Asian region.
"There are also a lot of our friends there so also it's a time when we want cool heads to prevail," Mr Key said.
"What we've always said is that we respect the law of the sea and we want the parties to amicably find a solution to the issue."
Mr Key said he didn't think the ruling would spark a threat to global security.
"There's clearly some contested territory in the South China Sea, that's the bulk of the issue and the question is who is the rightful owner of that territory.
"We're not in a position to judge that and that's what New Zealand has always said, we don't know the merits of the argument.
"What we do know is that peaceful resolution can be the only sensible option for everybody.
"I don't think it's in any country's issue to escalate the issue further."