Kidwell targets strong start for Kiwis

NZ Newswire
6/11/2016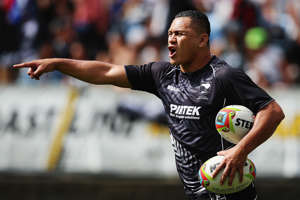 Coach David Kidwell says the Kiwis have targeted a strong start when they meet Scotland in their final Four Nations round robin match in Edinburgh.
Beaten 54-12 by Australia in their tournament opener, the Scottish kept England scoreless for nearly half an hour in defending an early 8-0 lead in Coventry on Sunday (NZT).
England eventually prevailed 38-12, but Kidwell says the Kiwis saw enough from Scotland to be wary.
"I thought they really put England's line under pressure at times," he said.
"We expect it to be a tough game on Friday night. We need to start well, and that will be one of our main focuses."
The Kiwis have been slow to hit their straps in both their Four Nations matches to date, but Kidwell says they have shown steady improvement.
They finished strongly in edging England 17-16, and pushed hard in the closing stages against Australia before succumbing 14-8.
There was enough shown against the Kangaroos to keep Kidwell happy: the Kiwis goal-line defence was solid, and although they looked vulnerable through the middle in the first half, things improved noticeably in the second.
After trailing at halftime for their last three matches, Kidwell wants his team to hit the front early against Scotland but says while that's an important goal, it's not the only target the Kiwis have set.
"We need to start well, and that will be one of our main focuses," he said.
"But we need to make sure we improve on some other stuff. Our kick and chase, making sure that's nice and solid, and our middle defence needs to be nice and tight so we can generate some line speed."
Kidwell also wants the Kiwis to cut back on the fifth tackle penalties that put their line under pressure against Australia.
Mainly, however, he wants to see them converting opportunities into points.
"In test match football you have to take your chances."