Killer clown craze: Russian Embassy warns citizens to be on alert in Britain

The Independent
13/10/2016
The advice follows a spate of incidents in which people dressed in menacing clown outfits have been filmed scaring members of the public.
In an official statement, the Russian authorities said the clowns are causing "fear and bewilderment".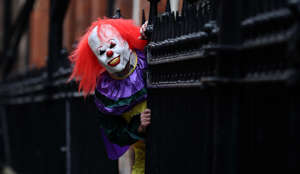 © PA Wire POSED BY MODEL A person wearing a clown costume in a street in Liverpool. The "killer clown" craze has continued to spread across the UK On its website, the Russian Embassy wrote: "According to British media and law enforcement agencies in recent [days] in different regions of the country in the dark, there are cases of attacks [by] malicious people in clown suits.
The purpose of the antics of the British "clowns" - to cause fear and bewilderment.
"We ask citizens in the UK Russia take note of this information."
On Tuesday, a student at Brunel University was arrested on suspicion of a public order offence after he was seen dressed as a clown and chasing people with a chainsaw on the university's campus.