Kim Dotcom eligible for extradition: court

NZ Newswire
20/02/2017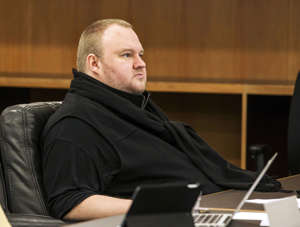 © REUTERS/Nigel Marple Kim Dotcom Internet entrepreneur Kim Dotcom will appeal after the High Court found there were grounds to extradite him and three co-accused to the United States on charges of racketeering, wire fraud and money laundering.

The German-born founder of Megaupload was successful in his bid to block extradition on copyright infringement charges dating back to 2012, but his legal team say the overall outcome is "extremely disappointing".
Dotcom was arrested following raids in January 2012, alongside co-accused Mathias Ortmann, Bran van der Kolk and Finn Botato and accused of defrauding copyright holders and paying users to upload illegal files.
The US Federal Bureau of Investigation has led the investigation and claim Megaupload is a criminal conspiracy that earned the men $175 million.
They're each facing 13 charges.
High Court Justice Murray Gilbert on Monday released findings upholding an earlier District Court decision that the four could be extradited on the racketeering, wire fraud and money laundering charges.
But he supported an argument put forward by Dotcom's legal team that he couldn't be extradited on copyright infringement grounds because the allegation against him is not a criminal offence in New Zealand.
Instead, in his more than 360 page judgement, Justice Gilbert found conspiracy to commit copyright infringement amounted to conspiracy to defraud which is an extradition offence, meaning ultimately Dotcom and his co-accused are still eligible to surrender on all charges.
Dotcom took to Twitter moments after the judgement was released tweeting scales and a toilet emoji and saying "Extradition in a nutshell: we won but we lost anyway".
"The US Supreme Court has ruled that copyright charges can't be fraud charges. Let's just ignore that minor detail in New Zealand," he said.
Both Dotcom and his lawyer Ron Mansfield have questioned what the judgement means for internet service providers.
"Dear New Zealand ISPs, based on today's High Court ruling you're Fraudsters. If your users engage in copyright infringement, call a lawyer," Dotcom said.
"New Zealand Copyright Law (92b) makes it clear that an ISP can't be criminally liable for actions of their users. Unless you're Kim Dotcom?"
Mr Mansfield said the High Court accepted the Parliament made a clear and deliberate decision not to criminalise this alleged conduct by internet service providers, meaning they're not responsible for acts committed by users.
"For the Court to then permit the same conduct to be classified as a type of fraud in our view disrupts Parliament's clear intent.
"The High Court decision means that Parliament's intended protection for internet service providers is now illusory."
Mr Mansfield said the final hurdle to overturning extradition will be determined by the Court of Appeal.
Judgement: I'm no longer getting extradited for Copyright. We won on that. I'm now getting extradited for a law that doesn't even apply.

— Kim Dotcom (@KimDotcom) February 20, 2017
So what is the case all about?
WHO?
* Kim Dotcom: German-born internet mogul who founded Megaupload, once the world's biggest file-sharing website. Was granted New Zealand residency in 2010.
* Mathias Ortmann, Bram van der Kolk and Finn Batato: Dotcom's three New Zealand-based co-accused. All were involved in Megaupload and arrested in the same January 2012 raids as Dotcom.
WHAT?
* The United States FBI, not New Zealand authorities, have led the investigation into Megaupload. The FBI wants all four men extradited to the US to face charges.
* They say Megaupload was a criminal conspiracy which earned the men $US175 million.
* They accused the men of defrauding copyright holders and paying their users to upload illegal files.
* Under New Zealand's extradition laws, a District Court judge has had to decide whether Dotcom and his three co-accused have a case to answer in the US.
THE CHARGES
* They faced charges of conspiracy to commit racketeering, conspiracy to commit money laundering, wire fraud and two kinds of criminal copyright infringement based on an investigation going back to 2010.
EXTRADITION
Lawyers for the four argued:
* The website was protected by "dual use" defences - just like video recorders - where the company can't control if its customers use its products for illegal purposes.
* The US had prevented them from putting together a proper response by blocking them from hiring necessary US experts.
* None of the charges were extraditable offences based on New Zealand and US law.
ORIGINAL DECISION
* Judge Nevin Dawson ruled all four men could be extradited to face criminal charges.
APPEAL
* A High Court appeal by the four fails, the judge confirming they're still eligible to be extradited for racketeering, wire fraud and money laundering.
* But Justice Murray Gilbert finds copyright infringement isn't a grounds for extraditing the men, a minor victory for Dotcom.
WHAT NEXT?
* Dotcom's lawyers now say they're going to appeal again, this time in the Court of Appeal.
TIMELINE of the case:
2010
* March: FBI begins its investigation into Megaupload.
* November: Dotcom granted New Zealand residency.
2011
* August: New Zealand becomes involved in FBI investigation into Megaupload.
* December: GCSB starts spying on Dotcom.
2012
* January: Dotcom and three co-accused arrested in early morning raids on a number of properties in Coatesville, north of Auckland. All four appear in court and are denied bail.
* February: After several attempts, Dotcom finally granted bail.
* March: US authorities lodge extradition request.
* May: District Court judge rules the US must hand over all the evidence it's got against Dotcom.
* June: High Court judge rules police botched the search warrants used to raid Dotcom's mansion.
* August: At a hearing in the High Court, details about the raid are revealed. Dotcom is called to give evidence.
* September: Revealed that the GCSB spied on Dotcom when it shouldn't have. Prompts review of spy agencies.
2013
* January: On the first anniversary of the raid, Dotcom launches his new site, Mega.
* July: Dotcom appears before parliament's security and intelligence committee. He and Prime Minister John Key exchange taunts.
2014
* March: Supreme Court rules against Dotcom and says the US doesn't have to disclose all the evidence it has against him.
* September: After launching the Internet Party and joining forces with Mana, Dotcom's political punt ends in failure, with Internet Mana winning no seats in parliament and just 1.4 per cent of the vote. His much-hyped "moment of truth" announcement, a few days out from the election, was also a flop.
* November: Dotcom's long-standing lawyer Paul Davison QC steps down from the case.
* December: US bid to get Dotcom back into custody fails after an apparent bail breach. Supreme Court rules against Dotcom again, saying the search warrants used for the raid are valid.
2015
* September: Dotcom makes last minute bid to Court of Appeal to have extradition hearing delayed again. Fails.
* September: Ten-week extradition hearing begins.
* December: Judge Nevin Dawson green-lights the extradition - the decision is immediately appealed by lawyers for the men.
2016
* August: High Court at Auckland hears an appeal by Dotcom and his co-accused's lawyers - they win a bid to live-stream the entire hearing, a New Zealand first.
2017
* February: Appeal bid fails, Justice Murray Gilbert upholds Judge Dawson's decision. Dotcom's lawyers immediately say they will go to Court of Appeal.