Kiwi bowlers edge closer to world playoffs

NZ Newswire
30/11/2016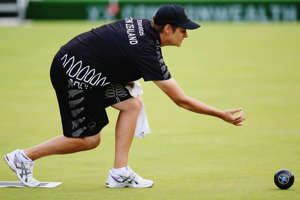 All four Kiwi combinations at the world bowls championships have edged closer to a spot in the knockout phase after notching up three wins on the second day of section play in Christchurch.
Commonwealth Games singles champion Jo Edwards cruised to comfortable wins over the United States, Cyprus and Guernsey to sit on five wins from six matches with one day of section play remaining.
The six leading bowlers from section play in all classes advance to the sudden death phase on Friday, with finals on Sunday.
The Val Smith-skipped Kiwi women's four also recorded three from three on Wednesday, starting the day with a hard-fought 16-10 win over Canada before easier victories over Namibia and Wales.
They now have five wins offsetting their opening 17-14 loss to Singapore.
In men's competition, New Zealand pair Shannon McIlroy and Mike Kernaghan also collected three wins on day two, beating Israel, the United States and Guernsey after falling 17-13 to unheralded India on Tuesday.
The Ali Forsyth-skipped men's triple, downed 19-9 by Australia on day one, recorded wins over Ireland, Samoa and the US on Wednesday.
They top their section ahead of matches against the strong Welsh and Namibian combinations on the final day of section play.