Kiwi cities among world's most expensive

NZ Newswire
21/03/2017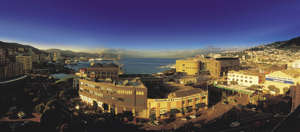 © AAP File photo of Wellington City. The wallet-burning cost of Auckland and Wellington has been highlighted once again as they jointly ranked the 16th most expensive cities to live in the world.
The Economist Intelligence Unit's Worldwide Cost of Living Survey covered 150 cities, with Wellington climbing 26 places since last year's survey and Auckland 22 places.
They now rank equal with Shanghai, China's most expensive city, and just behind Sydney and Melbourne in 14th and 15th respectively.
"The rise of Australian and New Zealand cities up the ranking is to be expected, given that both countries' currencies have appreciated in value in the last year or so," survey editor Jon Copestake said.
"This movement is in sync with a number of other Asian cities, which have come to dominate at the top of the ranking."
Auckland and Wellington's dramatic jump up the rankings was behind only Brazil's Sao Paulo and Rio de Janeiro, which jumped 29 and 27 rankings each.
While Brisbane and Adelaide also climbed higher up the list, Aussie rankings are still lower than five years ago when Sydney and Melbourne were among the world's top 10 most expensive cities.
Singapore heads the list for fourth year running, while Hong Kong and Zurich were the second and third most expensive cities.
Tokyo (4th), Paris (7th) and New York (9th) also featured prominently.
10 MOST EXPENSIVE CITIES:
1 Singapore
2 Hong Kong
3 Zurich
4 Tokyo
5 Osaka
6 Seoul
7 = Geneva
7 = Paris
9 = New York
9 = Copenhagen
CHEAPEST CITIES:
1 Almaty
2 Lagos
3 Bangalore
4 Karachi
5 = Algiers
5 = Chennai
5 = Mumbai
8 = Kiev
8 = Bucharest
8 = New Delhi