Kiwi cops awarded bushfire medals

NZ Newswire
17/10/2016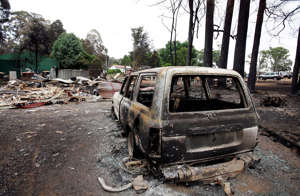 Nine New Zealand police officers have been recognised for their work in Australia during the deadly bushfire season in 2009.
The policemen were part of a New Zealand contingent that worked to help with victim identification between January and March and which included Black Saturday that claimed 173 lives in Victoria
Included were four dog teams that were tasked with helping locate bodies.
The nine were awarded the Australian National Emergency Medal by Australian High Commissioner Peter Woolcott who said the New Zealand police's help during the emergency reflected the relationship and shared values of both countries.
"The bottom line is we have each other's backs," he said. "When things get difficult we'll always be there for the other."