Kiwi down against USD, up against Euro

NZ Newswire
5/12/2016
The kiwi dollar fell to 70.98 US cents as at 5pm in Wellington, from 71.18 cents at the start of the day and from 70.96 cents in Asia at the end of last week. The trade-weighted index rose to 78.10 from 78 in Wellington on Friday.
The euro fell about 1.2 per cent against the greenback in its biggest one-day decline in five months after Italian PM Renzi said he would resign during an address to the nation after the nation voted against reforms, a decision seen as delaying efforts to tackle bad debts at Italian banks and as another example of anti-European Union sentiment.
The kiwi rose to 67.34 euro cents, having earlier touched a high of 67.64 cents, from 66.88 cents in New York and from 66.37 cents in Wellington on Friday.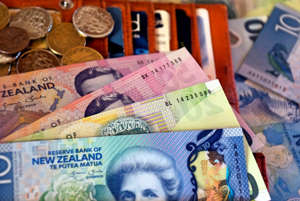 © LazingBee/iStock/Getty Images Kiwi down against USD, up against Euro It fell against the US dollar after Key said he would step down next Monday and would use his caucus vote to support Finance Minister Bill English as his successor.
"Indecision was created and in something away from the norm with Key's resignation," said John Chisholm, a dealer at HiFX.
The focus on Monday was initially on the Italian referendum and the results of that, he said.
Chisholm said the kiwi was still expected to hold up in the lead-up to Christmas, given it was well supported at 69.50 US cents, while Fonterra's forecast higher payout for farmers and rising GlobalDairyTrade prices were both helping sentiment for the kiwi. Prices are expected to rise at this week's GDT auction.
Also this week, investors are awaiting US Federal Reserve officials William Dudley, Charles Evans, and James Bullard-scheduled to speak today at separate events-who may offer fresh clues on the path of interest rates next year.
The kiwi fell to 95.34 Australian cents from 95.76 cents in New York on Friday. It traded at 4.8902 yuan, down from 4.9124 yuan. The local currency was at 80.59 yen, down from 81.04 yen and fell to 55.90 British pence from 56.11 pence.
The two-year swap rate fell 3 basis points to 2.22 per cent and the 10-year swap rate fell 6 basis points to 3.29 per cent.