Kiwi falls over rates cut expectations

NZ Newswire
9/05/2016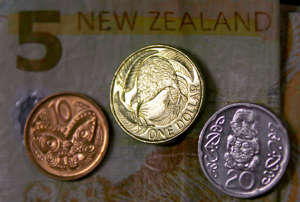 © David Gray / Reuters Kiwi falls over rates cut expectations The New Zealand dollar fell on a trade-weighted basis on expectations weak inflation will prompt the Reserve Bank to cut interest rates in June while the US Federal Reserve has been giving more hints it will hike rates this year.
The trade-weighted index fell to 72.78 as at 5pm in Wellington, from 72.91 on Friday. The kiwi traded at 68.41 US cents, from 68.36 cents at the New York close and 68.54 cents on Friday in Asia.
The kiwi fell on Friday after the Reserve Bank of Australia lowered its forecast track for inflation in its monetary policy statement, reminding traders that both countries are dealing with prolonged weak price pressures that are below their central banks' targets. Both the RBA and RBNZ could cut their benchmark rates next month, giving investors less reason to hold the currencies against a stronger greenback.
The RBA's weaker inflation forecast "is very consistent with what's been seen in the New Zealand economy as well," said Angus Nicholson, market analyst at IG Markets.
"With the RBA expected to struggle to reach its inflation target over the next couple of years, a number of analysts changed their calls to predict further rate cuts," Bank of New Zealand currency strategist Jason Wong said in a note.
"The New Zealand dollar fell in sympathy, with investors concluding that with the same forces affecting New Zealand, further RBNZ easing was also more likely."
The New Zealand dollar was little changed at 92.71 Australian cents and fell to 59.95 euro cents from 60.10 cents. It fell to 4.4473 yuan from 4.4578 yuan and was little changed at 73.48 yen from 73.43 yen. The kiwi traded at 47.36 British pence from 47.33 pence.
The two-year swap rate rose about 3 basis points to 2.15 per cent and the 10-year swaps rose 3 points to 2.85 per cent.