Kiwi finishes week just below 70 US cents

NZ Newswire
18/11/2016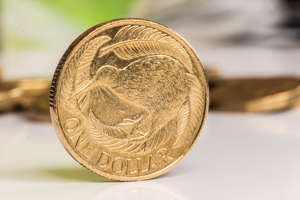 The New Zealand dollar fell, dipping below 70 US cents to the lowest in almost four months, as markets continued to be priced on expectations of president-elect Donald Trump and a Republican US government, which has driven up the greenback and lifted equities.
The local currency fell to 70.13 US cents as at 5pm in Wellington, from as low as 69.96 cents earlier and from 70.98 cents late yesterday. The trade-weighted index fell to 77.18 from 77.62.
Investors have put almost total odds on a rate hike by the US Federal Reserve next month and Federal Reserve chair Janet Yellen told the Congress Joint Economic Committee that the case for a hike had strengthened.
Meanwhile, traders are watching Trump's progress and his ability to get work begun on a wall with Mexico or screening people from Muslim countries.
The break below 70 US cents "means it gets to 66 by the next month or so," said Imre Speizer, senior market strategist at Westpac.
"And forget about New Zealand now. The only show in town is the US, all thanks to Mr Trump. All the big shows are in the US."
Bond markets have seen a reversal of fortune led by a sell-of in US Treasuries that has pushed 10-year yields to their highest levels since mid-2015.
A shift in spending priorities and other changes from US policy gleaned from Trump's sayings have buoyed the greenback, which rose above 100.5 on the US dollar index, a level it hasn't sustainably held since 2003.
Meanwhile, after a busy night, Fonterra raised its forecast milk payout to $6 per kilogram of milk solids while keeping the earnings component at 50-60 cents per share.
The kiwi traded at 77.55 yen up from 77.33 yen on Thursday. It fell to 4.8311 yuan from 4.8764 yuan, declined to 56.56 British pence from 57.09 pence and traded at 66.13 euro.
The kiwi traded at 94.82 Australian cents from 94.92 cents on Thursday.