Kiwi gains after positive inflation data

NZ Newswire
18/10/2016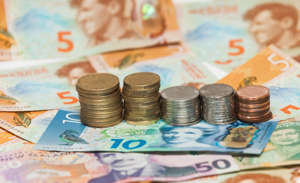 © nazar_ab/iStock/Getty Images Kiwi gains after positive inflation data The New Zealand dollar rose after figures showing stronger-than-expected third-quarter inflation reduced the odds that the Reserve Bank will have to make more than one further rate cut during this easing cycle.
The local currency rose to 71.85 US cents as at 5pm in Wellington from 71 cents late Monday. The trade-weighted index rose to 77.10 from 76.44.
The consumers price index rose 0.2 per cent in the third quarter, while economists were expecting no change, while the annual increase, also of 0.2 per cent, was in line with the central bank's projection.
The RBNZ expects to get back to the bottom of its 1 per cent-to-3 per cent target range in the fourth quarter, ending two years of undershooting the target.
A strong kiwi dollar has erased any tradable inflation and tradable prices fell 2.1 per cent on an annual basis, Tuesday's figures show.
"Downward pressure on inflation expectations has been a critical factor in monetary policy easing to date," said Doug Steel, an economist at Bank of New Zealand.
"Q3 is highly likely to be the low in annual CPI inflation."
Steel said assuming inflation does accelerate from here, inflation expectations "could push higher relatively quickly and the RBNZ easing bias evaporate. Such an outlook makes further OCR cuts in 2017 more tenuous."
Traders are now looking ahead to the overnight GlobalDairyTrade auction to give the kiwi further impetus, with NZX-traded dairy futures pointing to an increase in prices for the first time in three auctions.
The kiwi dollar rose to 93.68 Australian cents from 93.38 cents on Monday. The local dollar gained to 58.76 British pence from 58.37 pence and rose to 65.18 euro cents from 64.65 cents. It climbed to 74.57 yen from 74 yen and rose to 4.8428 yuan from 4.7802 yuan.
New Zealand's two-year swap rate rose 5 basis points to 2.09 per cent and 10-year swaps rose 7 points to 2.70 per cent, the highest level since June.