Kiwi heads for weekly fall vs. greenback

NZ Newswire
7/10/2016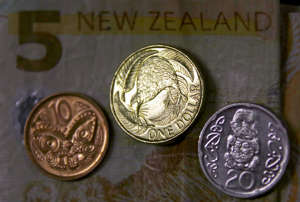 © REUTERS/David Gray/Illustration Kiwi heads for weekly fall vs. greenback The New Zealand dollar is heading for a 2.1 per cent weekly decline against the greenback in the lead-up to US employment data that will give investors another steer on whether the Federal Reserve will raise interest rates later this year.
The kiwi fell to 71.32 US cents at 5pm in Wellington from 72.81 cents on Friday in New York last week, and down from 71.67 cents on Thursday.
The trade-weighted index was heading for a 1.2 per cent weekly decline to 76.32, down from 76.44.
Economists predict the US added 172,000 jobs last month when non-farm payrolls data are released on Friday in Washington, and investors will be watching the figures for whether the labour market in the world's biggest economy is healthy enough to warrant another rate hike later this year.
At the same time, New Zealand's Reserve Bank is poised to cut the official cash rate, which would reduce the appeal of the country's interest rate differential.
A Fed rate hike still isn't fully priced in and "if we do see it come, the kiwi dollar could come under a bit more pressure at the end of the year and we've got a bit of talk about what the RBNZ will do in their final meeting of the year," said John Chisholm, senior trader at HiFX in Auckland.
New Zealand's two-year swap rate increased one basis point to 2.05 per cent and 10-year swaps were up 1 basis point to 2.58 per cent.
A slump in the British pound against the greenback also weighed on the kiwi dollar as investors wound back their holdings of risk-sensitive assets.
Sterling fell to a 31-year low as investors adjust to the prospect of the UK's prioritising immigration curbs over staying in the European single market when it exits the European Union.
The kiwi jumped to 57.34 pence from 56.32 pence on Thursday.
The local currency increased to 64.17 euro cents from 63.99 cents and traded at 94.10 Australian cents from 94.22 cents. It was little changed at 74.02 yen from 74.12 yen and fell to 4.7560 Chinese yuan from 4.7793 yuan.