Kiwi heads for weekly gain against USD

NZ Newswire
4/11/2016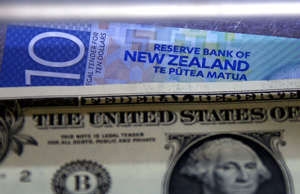 © REUTERS/David Gray/File Photo A New Zealand ten dollar note sits underneath a United States one dollar bill The New Zealand dollar is heading for a 2.1 per cent weekly gain against the greenback as better-than-expected local data has investors questioning whether next week's presumed interest rate cut will be the Reserve Bank's last for the time being.
The kiwi rose to 73.14 US cents at 5pm in Wellington from 71.67 cents on Friday in New York last week. It traded at 73.27 cents at 8am and was little changed from 73.08 cents on Thursday. The trade-weighted index is heading for a 1.7 per cent weekly gain to 78.35 from 77.07 last week, and was little changed from 78.29.
The local currency has been a beneficiary of a weak greenback as investors weigh up which way next week's US Presidential election will fall in the close run race between Hillary Clinton and Donald Trump.
At the same time, the Federal Reserve put off a rate hike at its latest meeting while New Zealand data has shown a labour market in good health and a strong recovery in dairy prices.
That's prompted economists to pare back their expectations for the Reserve Bank's track for lower rates with next week's meeting now seen as the end of the current easing cycle.
Traders will be watching US non-farm payrolls for last month when it's released to gauge the strength of the world's biggest economy, though next week's election will continue to heighten volatility in the lead-up to New Zealand's Reserve Bank policy review.
The local currency edged down to 95.25 Australian cents from 95.32 cents.
The kiwi increased to 4.9456 Chinese yuan from 4.9381 yuan yesterday, and gained to 75.36 yen from 74.99 yen.
It fell to 58.65 British pence from 59.23 pence on Thursday after a British High Court ruled Prime Minister Theresa May might need parliament to ratify the popular vote to leave the European Union, and as the Bank of England took on a neutral policy bias. The kiwi was increased to 65.92 euro cents from 65.70 cents.
New Zealand's two-year swap rate increased three basis points to 2.16 per cent, and 10-year swaps gained two basis points to 2.83 per cent.