Kiwi rises after RBNZ announcement

NZ Newswire
11/05/2016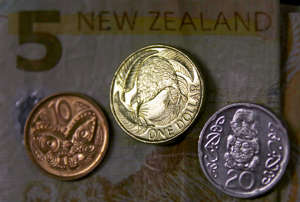 © REUTERS/David Gray/Illustration Kiwi rises after RBNZ announcement The New Zealand dollar rose after the Reserve Bank's financial stability report failed to deliver new measures to cool the housing market, quashing speculation among currency traders that such a move would give the bank a clear run to cut interest rates next month.
The kiwi rose to 67.88 US cents as at 5pm in Wellington, from 67.42 cents on Tuesday. The trade-weighted index rose to 72.46 from 72.05 yesterday.
The New Zealand dollar missed a rally among other commodity-linked currencies overnight driven by rising raw material prices and equity markets, because of speculation about what would be in the stability report.
Governor Graeme Wheeler stopped short of announcing specific new measures in the report and said the bank is "closely monitoring developments to assess whether further financial policy measures would be appropriate". He later told a media conference that a new loan-to-income restriction could be introduced, without saying when.
"The kiwi had underperformed on expectations the FSR would have some macroprudential tweaks, so there was a relief rally when that didn't eventuate," said Mark Johnson, senior foreign exchange dealer at OMF.
Further curbs on the housing market were seen as giving Wheeler more scope to cut interest rates because one of the key risks of a cut is adding fuel to a housing market already enjoying relatively low mortgage rates.
Johnson said Wheeler may be hoping the government budget later this month will come to his aid by including measures to address a shortage of housing in Auckland, which is partly to blame for soaring prices, although any government initiative wouldn't be a quick fix.
Real Estate Institute figures showed record median house prices in four of the nation's 10 regions in April and increased sales volumes across the country, adding to signs that demand in the overheated Auckland market is spilling over into other areas.
The New Zealand dollar rose to 92.37 Australian cents from 91.95 cents yesterday and rose to 73.93 yen from 73.38 yen. It rose to 4.4273 yuan from 4.3939 yuan, gained to 59.72 euro cents from 59.27 cents, and rose to 47.04 British pence from 46.83 pence.
The two-year swap rate rose 3 basis points to 2.15 per cent and the 10-year swaps rose 1 point to 2.80 per cent.