Kiwi surfer Williams survives first round

NZ Newswire
11/04/2017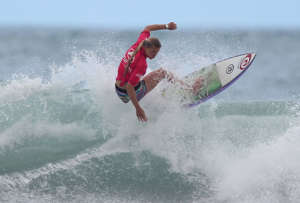 © Sandra Mu/Getty Image Ella Williams. File photo. Kiwi surfer Ella Williams continues to make every wave a winner in elite company in Australia.
Williams has scraped through to the second round of the Championship Tour event at Bells Beach in Victoria, having qualified for a wildcard spot in the field a day earlier.
The 22-year-old took a punt by trying to qualify for the Rip Curl Women's Pro, the third leg of the world series, rather than continue to battle points on the world qualifying series circuit.
It has paid off in spades, with the Whangamata athlete "stoked" firstly to qualify, before surviving the Wednesday cull from 18 to 12 surfers who will contest the second round.
Williams needed a top-two finish from her three-woman heat to advance.
She finished well behind defending champion Tyler Wright, who tallied 17.00 from her two best-scoring waves.
Williams left it until late to record her best ride, earning 4.10 points and a two-wave tally of 6.53. That pipped another Australian, Laura Enever, who posted 6.50.
Williams, who has struggled for form in her fourth year on the qualifying series, said she was well prepared for conditions at Bells Beach, having undergone lengthy preparation on the customary large swells there this month.