Kiwi touches 10-week low against US dollar

NZ Newswire
13/10/2016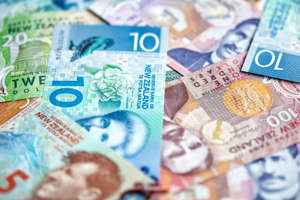 © powerofforever/iStock/Getty Images Kiwi touches 10-week low against US dollar The Kiwi hit a 10-week low against the US dollar in trading on Thursday, going as low as 70.36 cents against the greenback as economic data showed food prices in New Zealand fell and the pace of house price rises in Auckland eased off.
The kiwi was trading at 70.57 shortly after 5pm in Wellington, down from 70.81 cents on Wednesday. The trade-weighted index rose slightly to 76.04 from 76.03 a day ago.
Statistics New Zealand said food prices in September fell by a seasonally adjusted 0.2 per cent in September, following a 1.3 per cent rise in August.
Data from the Real Estate Institute of New Zealand showed house prices in Auckland rose by 7 per cent in September compared to a year earlier, much lower than the 14 per cent annual growth recorded in August.
Michael Johnston, Senior Trader at Hifx in Auckland said, "All the domestic data makes it easier for the Reserve Bank to cut rates.
The food price index came in low, the steam is coming out of the Auckland property market, all this reinforces the downward movement of the Kiwi."
The Reserve Bank is widely expected to cut the official cash rate in November, a notion given added credence in a speech by assistant governor John McDermott in a speech in Rotorua earlier this week.
Johnston said that the minutes from the most recent US Federal Reserve meeting published in the United States overnight suggested it was "fairly promising they would raise rates before the end of the year, probably December. We should see the New Zealand dollar continue to underperform."
The New Zealand dollar gained against its trans-Tasman counterpart, reaching 93.62 cents from 93.42 cents on Wednesday. It fell slightly against the Euro at 63.99 cents, down from 64.06 cents.
Against the Chinese Yuan, it fell to 4.7444 from 4.7568, reflecting weaker than expected trade data. It was almost flat against the Yen at 73.25, from 73.24 on Wednesday.
Against Britain's volatile pound, the Kiwi was up, at 57.88 pence, compared to 57.55.
New Zealand's two-year swap rate fell seven basis points to 2.00 per cent while the 10-year fell 9 basis points to 2.57 per cent.