Kiwi trio well-placed at Badminton

NZ Newswire
8/05/2016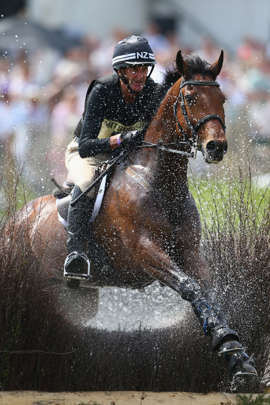 © Michael Steele/Getty Images Sir Mark Todd rides at Badminton.

A trio of Kiwis sit in the top six after a tough cross-country phase at the prestigious Badminton three-day event trials in England.
Sir Mark Todd and Leonidas II had a couple of lives during their round but came home clear and inside the time to sit fourth on 44.8 penalty points.
Todd was pitched out of the saddle at one jump but showed all his experience to regain his seat and carrying on without missing a beat.
"I had a couple of lucky moments, especially at the double brush through the hollow where he got in very deep to the second part and screwed, and sent me out the side door but I somehow managed to struggle back in," he said.
"All the questions were there and, particularly through the middle part of the course, you had to be right on the ball."
Right behind Todd are Jock Paget and Clifton Lush, who looked secure in remaining on their dressage score of 45.2 in fifth place.
Badminton debutantes Clarke Johnstone and Balmoral Sensation sit sixth on 45.6, going clear but picking up 4.8 time penalties in the process.
Jonelle Price and Classic Moet are 11th, producing a quick clear round 12 seconds inside time to move up from 30th after the dressage.
Blyth Tait and Bear Necessity were also clear, but picked up 4.8 time faults to sit on 53.3 points in 22nd spot.
Germany's Michael Jung looks on track to claim his first Badminton crown and also the coveted Grand Slam, following victories at Burghley last year and more recently, Kentucky.
Jung and La Bisothetique Sam FBW head into the showjumping with a nine-point buffer over countryman Andreas Ostholt and So Is Et.