Kiwi woman killed in Dreamworld accident

NZ Newswire
25/10/2016
Dreamworld will remain closed on Wednesday while police examine how four people, including a New Zealander, were killed on a 30-year-old water raft ride at the Gold Coast theme park.
Brother and sister Luke Dorsett, 35, and Kate Goodchild, 32, and Canberra man Roozi Araghi died in the catastrophic accident.
The three and another woman, a New Zealander, were victims of a conveyor belt malfunction at the Gold Coast park when their raft flipped on the Thunder River Rapids ride on Tuesday afternoon.
Two were thrown clear of the ride while the other two were stuck in the ride itself.
The Ministry of Foreign Affairs and Trade said Queensland Police had told it one of the victims was a New Zealander. 
A spokesman said she was understood to be a long-term resident of Australia. The NZ Herald named her as 42-year-old mother of two Cindy Low. It says the Sydney resident was on holiday with her husband and children.
The mother of Mr Dorsett and Ms Goodchild has told the Courier Mail the accident has devastated her family.
"I have three children and have lost two of them today - my whole family has been wiped out," Kim Dorsett told the Courier Mail.
Ms Goodchild had two daughters, aged eight months and 12 years. 
Ms Dorsett said the oldest girl was blaming herself.
"She has had a truly terrible day, she is going through unimaginable pain at the moment," Ms Dorsett said.
"I'm at a loss as to how to deal with this now - I woke up this morning with three children and tomorrow I am only going to have one left."
Dreamworld visitors described the chaos after the accident at 2.20pm.
"It all happened so fast. One minute we were just about to get on the ride and the next there was this little girl screaming and we were just trying to comfort her," Lia Capes told the Courier Mail.
Several parkgoers claimed the ride had broken down at least twice earlier in the day and police said those claims would form part of the investigation.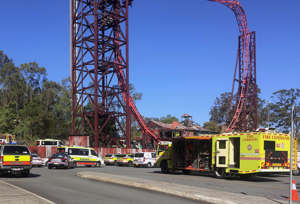 Queensland Ambulance senior operating officer Gavin Fuller said on Tuesday the victims suffered fatal injuries and couldn't be revived despite several crews attending the scene.
A coronial investigation into the cause of the accident and the deaths is underway, with workplace health and safety officers and police forensic crash investigators also involved.
Dreamworld released a statement on Tuesday night saying "the entire Dreamworld team is devastated and shocked by this incident."
The Thunder River Rapids Ride is currently Australia's only river rapids ride and opened in December 1986.
Dreamworld's Rocky Hollow Log Ride was shut down in April this year when a man fell from the ride and nearly drowned.