KiwiRail faulted over Raurimu accident

NZ Newswire
8/12/2016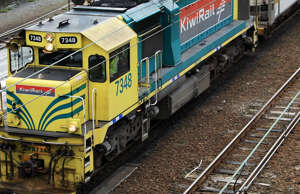 © Getty Images KiwiRail's failure to following standard safety procedures led to an accident on the Raurimu Spiral where a freight train ploughed into an excavator on the tracks, badly hurting its driver, an investigation has found.

A "thumbs up" from a rail protection officer likely convinced Downer contractor Paul Anderson it was safe to start work in his rail-capable machine in June 2014, according to the Transport Accident Investigation Commission.
Mr Anderson suffered brain, chest and lung injuries and may never recover fully after his excavator was hit at 42km/h by the two locomotives hauling 915 tonnes of wagons.
The commission's investigation found no fault with the train driver but said Mr Anderson should not have been on the track.
It faulted the failure by workers to hold a pre-shift safety briefing - abandoned because it was claimed no job plan booklet was available.
A rail protection officer had assumed the work group had overheard him giving the train authority to pass through the work site over the external loud speakers on the truck.
He gave the group the thumbs up when he got out of the truck.
"It is likely that the excavator driver interpreted this signal as indicating that work was about to begin on the track," the commission's report said.
The commission also noted Mr Anderson had broken one of Downer's 10 "cardinal rules", to always wearing a seatbelt, which could have reduced his injuries.
He was also working under the overheard powerlines without an electrical observer present.
Last year, a court ordered KiwiRail to pay Mr Anderson $110,000 in compensation.
At the time KiwiRail said it willingly paid the money because Mr Anderson and his family had to live with the consequences of the accident.
It had now adopted a padlock system for all worksites near tracks, where workers must attach their padlock to a board while on site, and no train is allowed through until all padlocks are removed.