Kiwis grab nine medals at Invictus Games

NZ Newswire
14/05/2016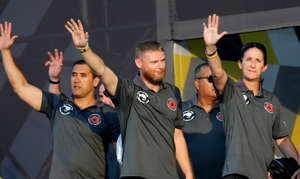 © AP Photo/John Raoux Athletes from New Zealand enter the stadium during the closing ceremony at the Invictus Games, Thursday, May 12, 2016, in Kissimmee, Fla. e
New Zealand's team at the Invictus Games is set to return home with a haul of nine medals including their first gold at the event.
The Kiwis have grabbed a total of fours bronzes, fours silvers and a gold at the games - an international paralympic-style sporting tournament for wounded, sick or injured service personnel - in the US.
Private Glenn Barnes, a former soldier who became a paraplegic after a car accident, took out the one-minute row event to win the New Zealand Defence Force's first-ever gold at the games - which were created by Prince Harry in 2014.
Already a wheelchair tennis champion, Private Barnes won the event despite the fact it was only his seventh time ever on a rowing machine.
New Zealand's other medals also included two silvers for Chief Petty Officer Amy Baynes in the road bike time trial and criterium cycling, and Barnes and David Sherriff's silvers in wheelchair tennis.
The bronzes included Corporal Kelly Whittle in the women's discus, Sergeant Gareth Prath in the men's 50m breaststroke, Josephine Barrett in the women's 50m breaststroke and Faamanu "Nu" Filo Leaana in the men's IR2 one-minute rowing.
The only event New Zealand didn't compete in at the event, which includes 14 countries and 500 competitors, was sitting volleyball.
The 18-person team is now set to return to New Zealand after a day's rest and will begin preparing for the 2017 games after a short break.
"It has been an awesome effort. We've cleaned up more medals than we have in the past. I am particularly proud of Glenn Barnes for getting gold in the one minute row - but we got great results in all our events," team captain Sherriff said.
Disability Issues Minister Nicky Wagner also congratulated the team, saying the event showed the importance of sport in promoting rehabilitation.
"The Games bring out the best in those with impairments and show the tremendous results they can achieve post injury."