Kiwis in Manchester urged to call home

NZ Newswire
23/05/2017
Video provided by Reuters
As many as 14 New Zealanders believed to be in the British city rocked by a deadly concert explosion should call home to confirm they're safe, Foreign Minister Gerry Brownlee has urged.
British authorities say 19 people were killed and 50 injured in the attack on an Ariana Grande concert at Manchester Arena on Monday night (UK time).
It's not known if any New Zealanders were caught up in the attack, which is understood to be being treated as a terror incident.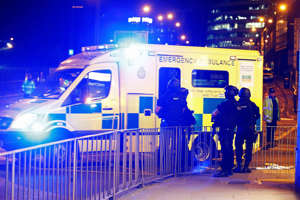 "We understand there are about 14 Kiwis registered on TravelSafe who might be in Manchester but we haven't had any calls into our consular offices at the present time," Mr Brownlee said on Tuesday.
"My advice would be to anybody who is in Manchester if they get this particular broadcast would be to ring home and confirm their safety."
Prime Minister Bill English said he expected it could take until Wednesday morning to get a clear indication of whether any New Zealanders had been caught up.
"It's an awful tragedy, people have lost their young ones in this and our condolences go out to any family who suffered from this," he said.
Slideshow provided by Reuters