Kiwis warned about travel to Turkey

NZ Newswire
1/04/2016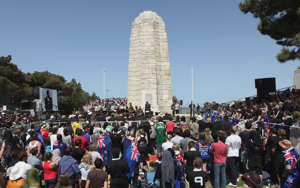 New Zealanders travelling to Gallipoli for Anzac Day commemorations are being warned to be careful following suicide bombings and civil unrest in Turkey.
The Ministry of Foreign Affairs and Trade (MFAT) updated its travel advice to Turkey on Thursday night ahead of the events at Gallipoli on April 25.
"If you are travelling to Gallipoli for Anzac Day we advise that you minimise your transit time in Ankara and Istanbul and avoid tourist areas in these cities," MFAT said.
Areas in the south-east of Turkey carry an extreme or high risk level.
"We advise exercising caution elsewhere in Turkey, including on the Gallipoli peninsula, due to the threat from terrorism and potential for civil unrest," MFAT says.
There is no ballot for the 2016 Anzac Day services at Gallipoli. Australia and New Zealand will conduct the popular dawn service at 5.30am after an overnight vigil. Later that morning, New Zealand will conduct its own memorial service at Chunuk Bair.
Australia's Foreign Affairs Minister Julie Bishop also announced upgraded travel advice for Istanbul and Ankara on Thursday, following the deaths of more than 80 people in four separate suicide bombings so far this year.
"Terrorist groups continue to threaten further attacks, including targeting tourists and Westerners," she said.
She acknowledged that many Australians were planning to travel to Gallipoli for Anzac Day commemorations.
There was no specific threat to Anzac Day services, she said.