Knee injury ends Scheres' netball career

NZ Newswire
29/06/2016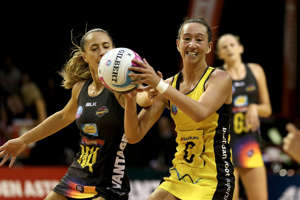 Pulse midcourter Elias Scheres has called an abrupt end to her netball career after seriously injuring her knee in last week's trans-Tasman netball league match against the Tactix.
Scheres had already decided that 2016 was going to be her last campaign, but her career has ended two games early when she became the third Pulse player this season to rupture her anterior cruciate knee ligaments.
She joins Whitney Souness and Jodi Brown on the sidelines, but with the painful addition of cartilage tears, as well as damage to the medial ligaments and patella tendon.
"It took until the fifth or sixth doctor to tell me that it was gone before it really hit home," Scheres said.
"I was pretty hopeful when I did it because I could weight-bear and I could walk around.
"I would have loved to play the last two games and finished the season off properly - that's probably the hardest bit to take at the moment."
Even though she's still relatively young at 26, Scheres says there'll be no change of heart and certainly no regrets.
"I've been part of this competition for seven years, I've been doing it since I was 18 and at this stage there are other things in my life that outweigh playing netball."
She plans on returning to Putaruru and finishing her teaching diploma at Waikato University next year.
Scheres was part of the Magic team in 2012 which became the first New Zealand team to win the trans-Tasman netball league title.