Labour: Cut migration by tens of thousands

NZ Newswire
19/04/2017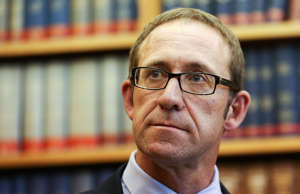 Labour leader Andrew Little has pledged to reduce immigration by "tens of thousands" if he becomes prime minister in September, but he hasn't put a figure on just how many.
On the back of new immigration policy announced by the government on Wednesday, designed to encourage more highly skilled and highly paid migrants, Mr Little revealed his own plans to give "locals a chance first".
Mr Little's plan to cut migrants would also affect the work visa scheme.
"That 70,000 net inflow of migrants - we cannot continue to do that. It has to be tens of thousands less than what we're doing at the moment," he told Newshub on Thursday.
"Six-thousand work visas are issued for people to do labouring work and we've got 15,000 out-of-work labourers. That doesn't make sense."
That policy has won support from former National leader and Reserve Bank governor Don Brash.
"It is harder said than done but there are ways in which you could get that back quite substantially, I think, and I think we should," he told the programme.
"I think the very large-scale immigration programme has not worked for the benefit of the New Zealand economy or New Zealanders individually."
National's policy, announced by Immigration Minister Michael Woodhouse, included new remuneration bands for work visa applicants which will alter the definition of highly skilled workers, time limit and extension restrictions for those who fall outside the threshold and tightening of work regulations for partners of skilled migrants.
The policy will only affect new visa applicants after implementation, which is expected to follow public consultation next month.