Labour expected to promise more police

NZ Newswire
12/10/2016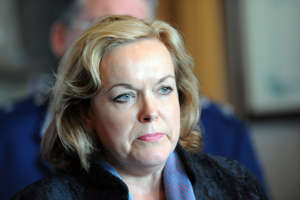 Andrew Little is about to announce a policy that's expected to commit his party to increasing the number of frontline police if Labour wins the next election.
The party leader will make what is being described as "a major policy announcement" when he speaks at the Police Association's annual conference on Thursday afternoon.
Labour has persistently criticised the government for failing to deliver more frontline police.
Last month its police spokesman, Stuart Nash, said: "There is only one answer to the ever-increasing crime rate - more police.
"A Labour government would prioritise more frontline cops so people can feel safe in their community."
Mr Little is expected to put a number of Labour's pledge, one he thinks will upstage whatever the government is planning.
Police Minister Judith Collins on Wednesday told the conference she knew there was pressure on police resources.
"We're still working through the numbers but recently the prime minister confirmed that the government is likely to increase the number of police - this is great news for police and New Zealanders," she said.
Prime Minister John Key said in August an increase in police numbers was likely over time.