Labour, Greens gear up for election battle

NZ Newswire
29/01/2017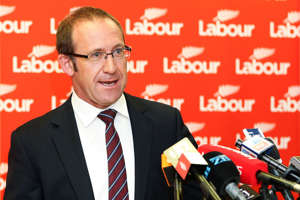 A Chinese New Year horoscope has predicted a "favourable" year for Labour leader Andrew Little, particularly in his career.
As the election approaches he told supporters at Sunday's state of the nation speech in Auckland that he hopes it, and a prediction that Prime Minister Bill English's luck will decline in September, are correct.
The speech was the first time Labour and the Green Party have joined forces for a state of the nation, a move both parties say is reaffirming their commitment to work together to change the government.
Unsurprisingly the housing crisis dominated Mr Little's speech.
"We've solved housing crises before. Labour has built houses before. We've done it before and we'll do it again," Mr Little said to rousing cheers from a room full of party faithful.
He also committed to reversing health cuts, protecting the environment and creating a better future for the next generation for Kiwis through improved wages and an end to poverty.
"We are ready to win, we are ready to go. We are ready to build that better New Zealand. Today we are ready to lead the next government of New Zealand," he said.
Mr Little said anyone who had climbed the ladder of opportunity had to keep it there for those who follow.
"That's the Kiwi way. That's what we do," he said.
"That means giving a damn every time."
Those were sentiments shared by Green Party co-leader Metiria Turei who revealed she was inspired by "mana wahine, fierce women, women who stand up for what they believe in".
She honoured activists Helen Kelly and Jeanette Fitzsimons who pursued meaningful change when the odds were against them.
"The Green Party will do what's right, even when it's not easy," Ms Turei vowed.
"We have the skills, knowledge and values to help shape Aotearoa; to make our great little country even better."
Ms Turei said she would draw inspiration from women who were activists, solo and working mothers, women who protect their whanau from violence and "the women who raised me and who I have raised".
Mr Little will also draw from his personal life, including his battle with prostate cancer.
"It made me think about seizing opportunities, about making the best of this life," he said.
"I've faced tough fights before and this is simply one tough fight we have to win," he later added.
Both also took moments to criticise Mr English.
Ms Turei described him as the "architect of the housing crisis", while Mr Little took aim at his decision not to attend Waitangi Day commemorations at Te Tii Marae next week.
He claimed while New Zealand got a new prime minister last year the nation was still without a leader.
Labour and the Green Party signed a memorandum of understanding last year, committing to work together in the lead up to this year's election.
No date has been set but it's expected to be in the latter half of the year, with September 23 thrown up as a possible date.
Mr English is expected to announce the date as early as next week.