Labour has concerns about new spy laws

NZ Newswire
15/08/2016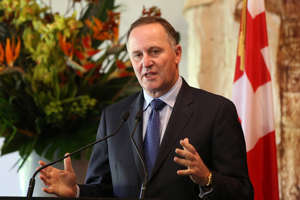 © Fiona Goodall/ Getty Images Labour has announced its initial support for new laws covering the spy agencies but it's looking for stronger privacy protection measures. Labour will support the government's changes to laws covering the security agencies but it wants stronger provisions to protect privacy.
Prime Minister John Key unveiled the new legislation on Monday, saying the bill would have its first reading in parliament on Thursday.
It brings the Security Intelligence Service and the Government Communications Security Bureau under a single Act, and gives the GCSB a mandate to spy on New Zealanders.
Under current legislation the SIS can put citizens and residents under surveillance but the GCSB, which has more sophisticated eavesdropping equipment, is restricted to gathering foreign intelligence except when it's checking out cyber crime.
Under the new laws both agencies will have the same warrants system, which has been strengthened into a "triple lock" process involving the attorney-general, the commissioner of warrants, and the inspector-general of intelligence and security.
Mr Key says they'll only be issued for purposes of national security, but Labour doesn't think the balance is right.
"The legislation controlling the work and scope of New Zealand's intelligence and security agencies needs to be updated so they can adapt to a rapidly changing environment and new challenges," Labour leader Andrew Little said.
"However, this must be balanced with the privacy and rights of all New Zealanders ... it does not get the balance quite right."
Mr Little says he's confident changes can be made which will satisfy his party when the bill goes to a select committee for scrutiny and public submissions.
Mr Key says the agencies have to operate under legislation which enables them to be effective in the face of a growing number of cyber threats and the rise of terrorist groups internationally.
The bill is the government's response to a statutory review of the laws covering the agencies, carried out earlier this year by Sir Michael Cullen and Dame Patsy Reddy.
They released their report in March, saying restrictions that stopped the GCSB spying on New Zealanders should be scrapped, but the change shouldn't be made without putting a high-level warrant process in place.
They also said the two security agencies should be covered by a single Act of parliament.
Speaking ahead of Monday's cabinet meeting, when the bill was signed off, Mr Key said there were good reasons for authorising the GCSB to carry out surveillance on New Zealanders.
"In the end, there are people that want to do some things we need to both understand and, secondly, potentially stop," he said.