Lake levels high in Queenstown, Wanaka

NZ Newswire
25/11/2016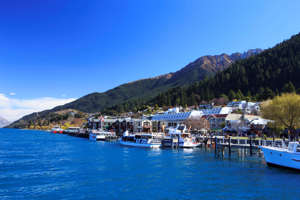 Councils are watching the level of Lake Wakatipu in Queenstown, saying it could flood low-level reserves if predicted rain arrives.
Queenstown Lakes District Council and Otago Regional Council say they are keeping an eye on lake levels after a severe weather warning was issued by the MetService.
Lake levels in Wanaka and Wakatipu are currently high from previous rainfall in the last few weeks, and are rising.
The amount of rain initially predicted by the MetService on the headwaters of Otago was slightly reduced, but is still significant, the councils said on Friday.
The heaviest rainfall is now expected between Friday afternoon and Saturday night.
Lake Wakatipu may reach a level on Saturday morning that could result in ponding in some of the low-lying reserves of Queenstown Bay, Kingston and Glenorchy, the councils say.
Lake Wanaka is also predicted to rise, but no issues are anticipated.
Locals are advised to keep a watch on river and lake levels during the next few days.
A 24-hour duty flood manager is monitoring river and lake levels.
MetService says a front preceded by a moist northerly flow is expected to cross the country from the northwest during Friday, followed by an unstable and strong west to northwest flow that persists into Sunday.
Periods of heavy rain are forecast for western parts of New Zealand during this time. The heaviest falls are likely about Westland and northern Fiordland, with significant spillover into the headwaters of the Canterbury and Otago lakes and rivers.
About the ranges of Westland, 250 to 300mm of rain may accumulate in a 42 hour period, while 170 to 200mm is likely in Fiordland north of Doubtful Sound in 36 hours. For the Canterbury and Otago headwaters, 120 to 200mm is possible within 10km east of the main divide.