Latham seizes chance for big Basin score

NZ Newswire
15/01/2017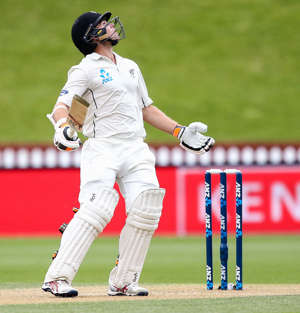 © Hagen Hopkins/Getty Images Tom Latham of New Zealand Tom Latham can't put his finger on why life is tough for openers at the Basin Reserve, but he wasn't going to let a chance of a big score go to waste.
The left-hander's 177 against Bangladesh, completed on day four of the first Test, is the second-highest by an opener at the Wellington ground.
The only bigger opener's score at the ground was set back in 1953 by South Africa's Jackie McGlew, with 255 not out.
In five previous innings in the capital, Latham has only passed 50 once.
"I can't explain why," he said when asked about the low return for those at the top of the order.
"But I suppose the plans we've had for New Zealand surfaces over the last few seasons is to be green.
"And as you've seen as an opener you lose in the toss and you are in batting first," he said.
However, he responded with the opportunity to bat on the third day.
"When you get yourself in you've got to make the most of it," he said.
"As a batsman you always want more and you never want to get out. But I suppose in the context of the match it was pretty pleasing to make a significant contribution."
Latham, 24, praised the New Zealand batting line-up for getting to 539. Partnerships had been the key in chasing a big score such as Bangladesh's 595-8 declared.
"We didn't lose wickets in clumps which was pleasing and to put 50 on with most partnerships was pretty pleasing."
TOP SCORES BY OPENERS AT THE BASIN;
255no - Jackie McGlew (South Africa) 1953
177 - Tom Latham (NZ) 2017
169 - Saeed Anwar (Pakistan) 1994
167 - Gautam Gambhir (India) 2009
166 - Sadiq Mohammad (Pakistan) 1973.