Lesnar faces potential doping violation

NZ Newswire
16/07/2016
© Getty Images Brock Lesnar after his victory at UFC 200. Former heavyweight champion Brock Lesnar is facing investigation by the US Anti-Doping Agency after a possible positive result from out-of-competition testing.
The 38-year-old Canadian beat New Zealander Mark Hunt, 42, by unanimous decision in the co-main event at UFC 200 in Las Vegas last week.
Hunt has asked UFC officials for half of Lesnar's reported $US2.5 million ($NZ3.51 million) purse, or else he would like to be released from his contract immediately, MMA Fighting said.
"The cheaters get a slap on the wrist and walk off," he told the mixed martial arts website. "What penalty or deterrent is there to make them think twice? Nothing."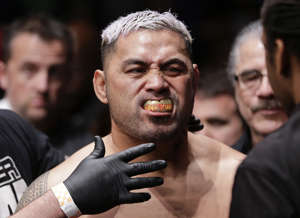 © Julie Jacobson/AP Photo Mark Hunt A UFC statement released on Saturday (NZT) says the USADA had informed Lesnar of a potential violation stemming from a sample collection late last month.
As the UFC's independent anti-doping agency, the USADA will manage the result and adjudication of the case.
The UFC said Lesnar would be afforded a "full, fair legal review process" to which all athletes were entitled before any sanctions were imposed.
Lesnar returned to the UFC for his bout against Hunt after a four-year absence, and was exempted from the organisation's requirement to undergo four months' testing prior to his fight.