Let's stay in the fight for longer: Hesson

NZ Newswire
28/09/2016
The Black Caps were dogged in the first Test loss to India.
Now coach Mike Hesson wants them to be dogged for even longer.
Eden Gardens in Kolkata is expected to provide greater assistance for spinners in the second Test starting on Friday than was on offer in Kanpur.
So while Hesson says his players stood up admirably in taxing conditions in the first Test, a 197-run loss shows they need to do it even better against the world's No.2 ranked side.
"It's just a matter of trying to execute your skills over a long period of time when you're under extreme fatigue," Hessond said.
"With the bat, the conditions are extreme from a spin point of view so it's trusting your game plan.
"From a bowling point of view, we just need to do it for longer. We need to create pressure for longer periods of time."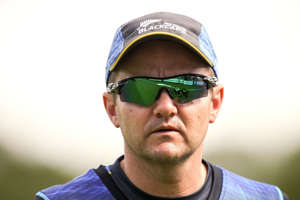 Indian spinners Ravichandran Ashwin and Ravindra Jadeja wreaked havoc on a slow, turning track in Kanpur, claiming 16 of the 20 Black Caps wickets.
Hesson says his tweakers learned plenty about the best speed to bowl at.
The batsmen, likewise, have come to terms with the fact that the ball will go past the outside edge of their bat a lot and have to accept that.
Taking the game into five days was notable achievement and something they can build on, he said.
"It's something we really expect of each other, that we keep fighting, and we certainly did that.
"Not many sides get to four days over here let alone five, and still stay in it.
"There were probably a couple of sessions where the game got away from us, but having lost the toss and to still be in the game after a couple of days was a good effort."
Hesson praised the middle order batting of Luke Ronchi and Mitchell Santner in Kanpur, with Ronchi's proven ability against spin on show in both innings as he scored 38 and 80 to follow a century in the warm-up game.
Santner's resolute double of 31 and 72, mixed with 55 overs of left-arm spin in hot conditions, were an achievement he could be proud of, Hesson said.
"He's a huge player for us. To come straight into a Test match over here not having had a lot of time in the middle is tough but I thought he was excellent with the bat.
"He had a game plan he'd worked on but it hadn't been tested."