Likely suspect in St Petersburg blast is Kyrgyz-born Russian citizen

Reuters
4/04/2017
The likely suspect in a deadly blast in the Russian city of St. Petersburg is a Kyrgyz-born Russian citizen, Kyrgyzstan's security service said on Tuesday.
A spokesman for the GKNB security service identified the suspect as Akbarzhon Jalilov, born in the city of Osh in 1995. He provided no other details.
Kyrgyzstan, a predominantly Muslim Central Asian nation of six million, is Russia's close political ally and hosts a Russian military airbase.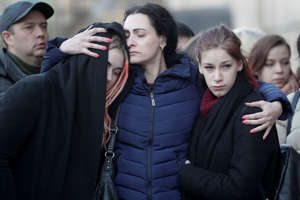 Monday's blast on board a metro train in St Petersburg killed 11 people and wounded 45. (Reporting by Olga Dzyubenko; writing by Katya Golubkova and Olzhas Auyezov; Editing by Sujata Rao)