Lions will celebrate 'small victories'

NZ Newswire
9/06/2017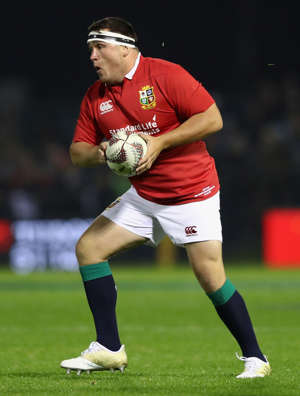 Jamie George has insisted the British and Irish Lions will keep on celebrating "small victories" as Maro Itoje did against the Blues.
England lock Itoje jumped around back-slapping his team-mates when the Lions forced a turnover penalty late on against the Blues on Wednesday night.
The Lions thought that momentum shift would prove enough to close out victory, only for Ihaia West to race in a stunning score that stole the tie 22-16.
Itoje came in for some social media criticism - but his Saracens team-mate George revealed the Lions will keep on toasting mini-wins within matches in New Zealand.
"I've been coached since I was 14 to celebrate stuff like that, so I don't think we're going to be changing any time soon," said George, who will start for the Lions at hooker against the Crusaders on Saturday.
"It's a huge positive. In that example against the Blues we were defending for a long time and it's an important part of the game.
"At Saracens especially, we're told to celebrate the small victories. We often celebrate if we get a turnover because we want to celebrate the effort of the players around us.
"Maro brings a huge amount of energy to people around him and him celebrating that shows he cares."
Saracens have long since drawn strength from celebrating the forcing of momentum shifts within matches.
George insisted Itoje just naturally reacts to positive moments in games but there can be no doubt that Saracens use the tactic to heap pressure upon opponents.
The approach can become confrontational, but Lions boss Warren Gatland would most likely want precious little else from his men in New Zealand.
The All Blacks are hardly shrinking violets in the same tactic, and the Lions' methods could lead to some sparks in the fast-approaching three-Test series.