Liquor store worker hit with wooden weapon

NZ Newswire
29/05/2017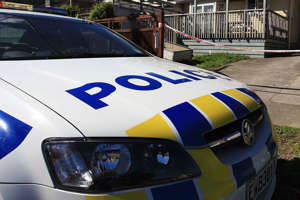 © Hagen Hopkins/Getty Images A file photo of a police car outside a house. A Palmerston North liquor store attendant was hit with wooden, slasher-like weapon during a robbery but escaped serious injury, police say.
Police are keen to hear from anyone who recognises the implement or a stolen red Subaru Impreza used in the robbery of the Liquorland outlet on College Street on Saturday night.
The car, which has the registration ERT266, had been taken from the Globe Theatre car park earlier in the day.
Police have released images of the weapon and a car similar to stolen vehicle.
They say four people were involved in the robbery, which happened just before 7.30pm.
The offenders are believed to have taken cash and tobacco products before fleeing in the car.