Little challenges PM to housing debate

NZ Newswire
8/02/2017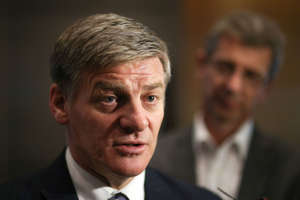 Prime Minister Bill English isn't interested in a debate on housing with Labour's Andrew Little, so ACT leader David Seymour is offering to stand in for him.
Mr Little laid down his challenge in parliament on Wednesday but Mr English didn't respond.
"Bill English says that National has it all under control, that there is no crisis," Mr Little said later.
"Yet he won't front up and explain his record to the public in a debate."
Mr Little wanted the debate to be held in Mt Albert, where a by-election campaign is running.
Mr Seymour says he'll take up Mr Little's challenge.
"Hopefully, the prime minister declined the challenge simply because he's busy," Mr Seymour said.
"But if the real issue is a lack of ideas from the government, I'm happy to help out.
"Labour's plan to punish investors and put the government in charge of home building ignores the fundamental causes of our housing shortage."
Mr Little isn't likely to be interested in taking on the leader of a minor party.