Little gets Greens' seal of approval

NZ Newswire
4/06/2016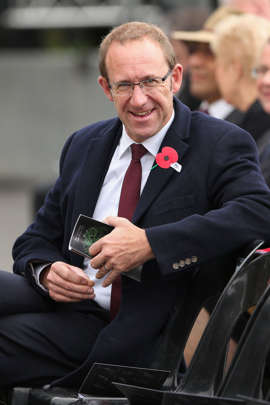 The budding new relationship between Labour and the Greens seems to be off to a positive start - at least in the eyes of Green Party members.
Just days after the two parties signed a formal agreement to work more closely together in the lead-up to next year's election, the Greens have embraced Labour leader Andrew Little at their annual conference in Christchurch.
Mr Little is the first Labour leader to ever speak at a Green Party conference and when he took the stage on Saturday afternoon he was met with a standing ovation, foot stomping and thunderous applause.
Both Mr Little and Greens co-leader James Shaw spent plenty of time in their speeches talking up the prospect of a change of government in 2017, but neither shied away from the fact there is plenty of work to do if they're going to present themselves as a credible alternative and make that a reality.
They also acknowledged that working together won't always be easy.
"There will be points of real difference and debate and disagreement. But we can deal with them respectfully and maturely," Mr Little said.
Despite Mr Little's warm reception, decisions are still to be made around whether Labour and the Greens will formally campaign together in 2017.
"We still remain two separate parties... what is very clear is that we have common ground, we share a vision, we share now a clear objective to change the government and that will inform each of our campaigns," Mr Little told reporters.
"What we do on a joint basis we will work that through... we've got time to work through that."
Meanwhile, Green Party co-leader Metiria Turei is optimistic the the two parties can take on National and bridge the five-point gap in the polls.
"When Labour and the Greens were working together very closely in the last term, for most of the months of that period our joint polling was greater than National's, so absolutely it is possible," she said.
Ms Turei will launch a major new environmental campaign at the conference on Sunday.