Locals get to access quake road

NZ Newswire
21/11/2016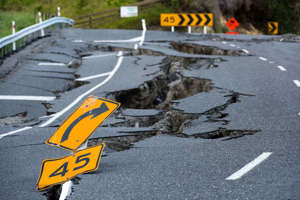 Civil Defence officials are arranging escorted access from the Waiau end of Kaikoura's inland road after complaints that locals weren't able to get to their properties.
The former State Highway 70 is the only road access in to Kaikoura following last Monday's magnitude-7.8 earthquake but it remains marginal and officials are strictly controlling its use.
Hurunui mayor Winton Dalley complained that about 20 local farms and 30 Mt Lyford homes were cut off from essential supplies, emergency services and engineers with some residents unable to return to their homes.
"We have not been asking for open access ... we have been very specific that we wanted access for the residents who have a right to access to their properties," he told Fairfax Media.
On Sunday evening, Canterbury Civil Defence relented and said it would allow controlled access from the Waiau end.
However, it would only be for residents, road and power repair contractors and the Defence Force, and only if they had 4WD vehicles.
They also said they would close the road if there were aftershocks, more rain or anything broke down on the road.
A convoy of residents who live beyond Mt Lyford had left on Monday morning and another, for those on the Waiau side of Mt Lyford, in the afternoon.
The road will be closed again at 6pm.
It is hoped to run a similar schedule on Tuesday.
"There will be no other civilian movements on this route regardless of permits that may have already been issued," Civil Defence said in a statement.
New Zealand Transport Authority's Mark Owen said he could understand the frustrations but road use is dictated by safety.
"The key thing is safety. We've got a lot of road crews that are in there working," he said.
He hopes SH70 will be be fully open within days.
"But again, that's still dependent upon weather, any aftershocks and those geotechnical risks (the workers) face," he said.
NZTA says it's still too soon to estimate the full cost of repairs in the region.