Lorde, NWA make dazzling Coachella cameos

NZ Newswire
18/04/2016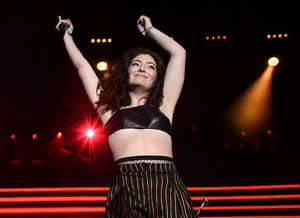 Lorde has made a surprise appearance on stage at Coachella.
The Kiwi star performed alongside English electronic duo Disclosure as they played their hit collaboration Magnets.
Lorde, 19, wore a black crop top and a black and gold striped bomber jacket with matching high-waisted baggy trousers.
English singer-songwriter Sam Smith also made an unexpected appearance alongside Disclosure, performing their collaborations Omen and Latch.
Lorde and Smith weren't the only high-profile acts to surprise fans by gracing the Coachella stage.
Kanye West popped up during A$AP Rocky's set but it was short-lived as the pair's microphones were cut off due to the performance running overtime.
Not all hip-hop guest stars had hitches at the festival.
Ice Cube's set featured an almost full reunion of N.W.A. with MC Ren and DJ Yella joining Cube on stage for the group's anti-police brutality anthem F*** The Police.
Snoop Dogg and Common also dropped in on Cube's set, along with his son O'Shea Jackson Jr who portrayed his father in the N.W.A. biopic Straight Outta Compton.
The cameos didn't stop there with AC/DC guitarist Angus Young joining Guns `N' Roses' set hours after an announcement that Gunners lead singer Axl Rose would be the Aussie band's lead singer on their upcoming tour.
Kesha joined Zedd on stage in her first performance since her court case with music producer Dr. Luke.
It was a family affair for action film stars Sylvester Stallone and Arnold Schwarznegger, with both men enjoying the festival with their children.