Lost tramper broke basic rules: police

NZ Newswire
2/05/2016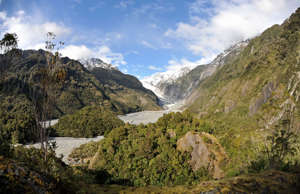 An English tourist rescued near Franz Joseph Glacier after getting lost broke several of the most basic rules of tramping, police say.
The 30-year-old was travelling with two companions on Saturday when they took a wrong turn and got lost. The man then ditched his mates and headed off in what he thought was the right direction.
While the two other trampers found their way back to the carpark, their friend did not, prompting them to raise the alarm after several hours of waiting.
He was found the next day by search and rescue teams, a few kilometres from his intended route.
Detective Mat Tailby says it was luck his two companions found their way out otherwise it may have been some time before their disappearance was reported.
"These people broke some of the simplest rules of tramping by splitting up and not leaving intentions," he said on Monday.
"Thankfully in this instance there has been a positive outcome, but it serves as a timely reminder to anyone else intending to go into the outdoors to take adequate precautions to ensure their safety."
While the Englishman was hungry and exhausted when found, he was not injured.